A Quick Guide to The Best New Year's Eve Parties in Las Vegas
| by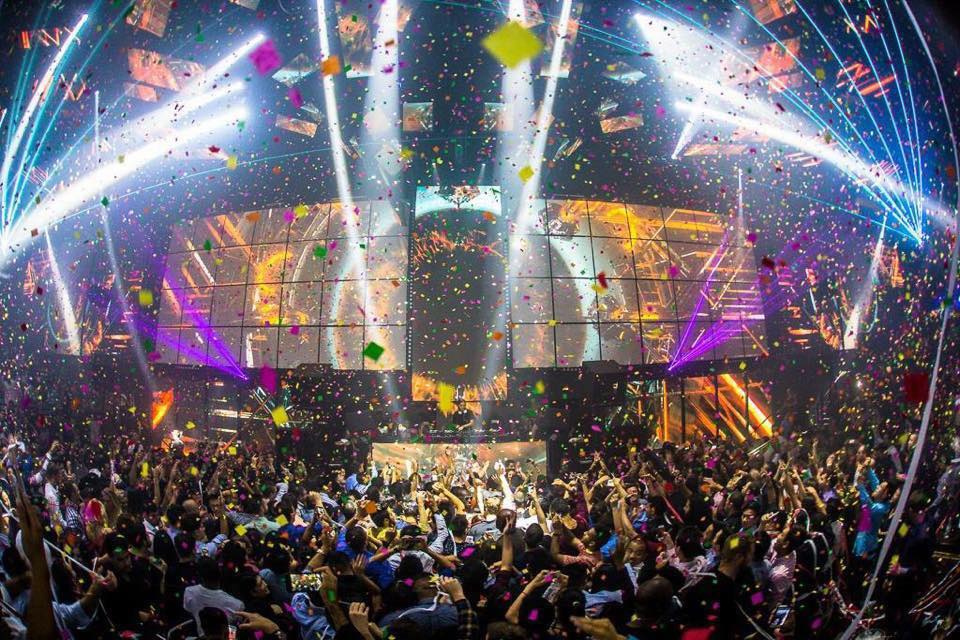 It's that time of year again. It's time to break out the party hats and confetti, find your midnight kiss, and write down that list of resolutions that may or may not last past January.
If you're counting down the last seconds of 2015 in Las Vegas, you probably already know that it'll be a night to remember. From Fremont Street to the Strip, the city will be taken over by party hats, confetti, and crazy New Year's Eve shenanigans. No matter what you're looking for this NYE, Vegas has it and does it better; they don't call it Sin City for nothing.
To help you choose where you'll ring in the New Year, we've put together a list of the best New Year's Eve parties in Las Vegas. Check it out and watch the ball drop on your ultimate NYE celebration.
Fremont Street Experience
If you're looking for something away from the Strip this New Year's Eve, heading Downtown might be perfect for you. Held under a canopy, this year's TributePalooza New Year's Eve 2016 celebration will feature world-class tribute bands such as Fan Halen (Van Halen Tribute), Red Not Chili Peppers (Red Hot Chili Peppers Tribute), Wanted (Bon Jovi Tribute), Pyromania (Def Leppard Tribute) and many, many more.
Can't decide on one venue for your big night out? Join the Las Vegas New Year's Eve Club Crawl for an experience of a lifetime. 3 world class venues, no lines, and VIP service in the Entertainment Capital of the World make for one remarkable night.
Whether you're looking for some awesome live music, a dance floor that you'll occupy all night long, or the most advantageous place to watch one of the best fireworks shows in the world, you'll find it here in Vegas. Remember it's going to be cold, so bundle up, and make sure to plan ahead as the Strip will be closed to traffic on New Year's Eve starting in the early afternoon. For more information about nightlife in the city, check our blog for regular updates.
Kick off your New Year's Eve night at Pete Rose, a newly-opened sports bar and grill located in the Hawaiian Marketplace. This joint boasts an awesome selection of craft beers, signature drinks, and progressive all-American cuisine, making it the perfect place to ease into your New Year's Eve night.
Pete Rose boasts an open layout which includes a 35-capacity bar, a large dining area, and a patio, and is more than ample enough to house all your end-of-year fantasies. With the perfect blend of great cuisine, a homey interior, and great outdoor amenities, Peter Rose is definitely up there among the best places to get your New Year's Eve night going.
Pete Rose carries a wide range of brews, ranging anywhere from Freetree Ginger Beer and Blue Moon White IPA, to an Ace Pineapple Cider and Las Vegas lagers. In addition, you'll be able to feast on anything from stuffed potato skins, Philly cheesesteaks, and chicken marsala pastas, to pan-seared salmon, carne asada fries, and vegetarian bites. For some fresh air, head outside and enjoy the venue's generously-sized outdoor patio area, where you'll be able to relax and sip on a cocktail or two. Come early because it's going to be a killer night!
Peter Rose's unpretentious sports-oriented atmosphere, stellar drinks menu, and stunning array of high-definition LED screens makes this venue a great place to get into party mode. Sit back in your chair, sip on a cocktail, or indulge in the high-fidelity beats as your start off your night on a high.
With World Crawl, you'll enjoy freed drinks, food, and games, so be prepared to sample Pete Rose's wicked selection of sangrias, sweet basil cocktails, and pre-party munchies. For more information on one of the most exciting New Year's Eve parties in Las Vegas, click here.
Located in the heart of the Las Vegas Strip, Blondies receives a constant stream of sports enthusiasts and beer lovers throughout the year, and New Year's Eve is no exception. The bar's dynamic layout, multiple sitting areas, and fun sports-themed decor make this the perfect New Year's Eve nightspot. Sit down and mingle with fellow crawlers, enjoy the beats, or try your hand at beer pong; whatever tickles your fancy.
By the time you reach Blondies, you'll probably be in need of a bite of food and a drink or two. Blondies offers everything from pulled pork sandwiches and hot turkey subs to chicken parmesan pizzas and blondies brownies, so there's something for every taste. This joint prides itself on the all-around quality of food, laid-back atmosphere, and first-rate entertainment, and has firmly established itself as one of the go-to sports bars on the Strip in recent times.
Blondies' dynamic integrated floor plan is perfect for large groups and gatherings, with its spacious main floor and full-service bar offering plenty of room to mingle and make merry with fellow New Year's Eve co-conspirators.
This December 31st, sip on a premium cocktail or snuggle up with a newly-made friend as you take in the scene at one of the hottest New Year's Eve parties in Las Vegas. Whether you're rocking the night away on the main floor, chilling in the seated bar area, or playing beer pong in the back, no matter where World Crawl takes you, you're sure to experience the ultimate sensory feast.
Get your ticket today, and prepare to usher in the new year in style at one of the most dazzling New Year's Eve Parties in Las Vegas.
Obviously, one of the best things about New Year's Eve is the spectacular fireworks. With hundreds of thousands of people flocking to the Las Vegas Strip for NYE, it goes without saying that the 4 mile stretch of road between Russell and Sahara has one of the most spectacular firework displays in the world. At midnight, the sky will be set ablaze by the casinos' incredible coordinated shows. Luckily for you, Chateau is the perfect place to watch the sky light up. 
Celebrate in style under the Eiffel Tower without ever leaving the Las Vegas Strip. Enjoy a 3-hour premium open bar, the essential midnight champagne toast, and make sure you make it to the Rooftop for fireworks over the Strip and the legendary fountain show. This New Year's Eve party is one you definitely won't want to miss.
If you're looking for something in the heart of The Strip this New Year's Eve, Chateau might be perfect for you. This nightspot is another excellent choice in NYE celebrations; just ask the loads of locals that make their way there every year. Held across two floors, this party boasts state-of-the-art special effects, go-go dancers, and hours and hours of live music.
This December 31st, head up to Chateau's exclusive Rooftop area to experience the spectacular fireworks displays first hand. With complimentary Champagne, outdoor heaters and Las Vegas' top DJ's spinning some of the hippest hits, Chateau's Rooftop area is one of the most spectacular places in Las Vegas to take in the New Year. In addition, tickets include an open bar to keep you going all night. Or, if you're feeling especially festive, you can splurge for bottomless VIP bottle service for an extra extravagant New Year's Eve celebration.
With a sprawling layout and a range of high-end facilities, Chateau's creators have gone above and beyond to bring you an NYE celebration you'll never forget. Click here for more information on one of the hottest New Year's Eve parties in Las Vegas. 
Get Tickets